Hi everyone,
I am intrigued by the use of traditional and multimodal texts in literacy classrooms.  These texts are electronic books that incorporate additional features to complement traditional picture book elements, namely text and images, with audio, video, animation, and interactive games (Bird, 2011 as cited in Meyers 2014). There has been rhetoric surrounding the use of going totally paperless and having no traditional books compared to the other side of the arguments where technology and multimodal texts have been lamented that they will be the end of books as we know it.
What about the middle ground? Shouldn't we be focusing on the ways that these two mediums can support each other and scaffold learning in many ways. When we teach we use a variety of resources to support children's learning and why should the type of literature we use be any different. I am a passionate user of technology, but it would be a travesty if children  did not have the opportunity to explore children's literature through a traditional book. The feel and weight of the book, the ability to physically turn the pages and understand how far through the book you are, the ability to create your own visualizations of the characters voices. Through a traditional books you can be transported to another place and time.
It is similar to multimodal digital texts, why shouldn't we spend the time exploring children's literature through this medium. The animations, the audio and the ability to interact with the characters all add meaning to the story.
Children can enjoy all different forms of texts by themselves, but when we use these texts as a teaching tool and scaffold the learning through both texts we add an extra dimension.
I believe it is all about balance, it CAN NOT and SHOULD NOT be about one or the other.
So in this light today's post is focused on children's literature both traditional and multimodal. I have sought out quality children's literature which you can access both traditionally and multimodally. Many of these apps are paid. I view the app as an investment just as you would invest in the purchase of a traditional book.
Wheelbarrow has produced an excellent range of multimodal stories which are interactive and engaging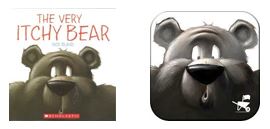 The Very itchy Bear by Nick Bland comes in both a traditional book version and a multimodal app  by wheelbarrow ($6.49)
The app comes in both apple and android platforms
The Very Cranky Bear by Nick Bland is both traditional and multimodal app  by wheelbarrow($6,49)
The app comes in both apple and android platforms
I love this, wheelbarrow has also produced a interview with the Cranky Bear, it offers a different perspective of the bear.  http://www.youtube.com/watch?v=tGMY90P9-7Y
The Very Hungry Bear multimodal app by wheelbarrow ($6.49).
The app comes in both apple and android platforms
The Wrong Book multimodal app ($6.49)
The app comes in both apple and android platforms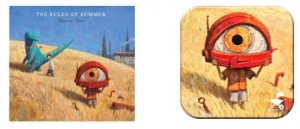 The Rules of Summer by Shaun Tan is also available  as a traditional book and  an multimodal app produced by Wheelbarrow.
This app does not read the story instead it takes a closer look at the visual art in the pictures accompanied by sound effects and music. This would be an excellent app to look at how music and sound creates meaning in a multimodal text.
The Waterhole by Graeme Base has a multimodal version created by app books ( $3.79).
The app has Graeme reading the story and it contains several games based on the book.
These are the best so far in terms of quality. Does anyone use any others?
References:
Meyers, E. M., Zaminpaima, E., & Frederico, A. (2014). The Future of Children's Texts: Evaluating Book Apps as Multimodal Reading Experiences. In iConference 2014 Proceedings (p. 916 – 920). doi:10.9776/14312