http://www.abc.net.au/dustechoes/default.htm
Dust echos is a online site created by the ABC (Australian Broadcasting Association).
"Dust Echoes is a series of twelve beautifully animated dream time stories from Central Arnhem Land, telling stories of love, loyalty, duty to country and aboriginal custom and law" (ABC 2007)
The site contains 8 indigenous stories for use in classrooms. The stories are beautifully presented, some have oral text and others just music. These clips are great for also discussing how we make meaning from different sources (semiotic systems). For example how does the music add to the story.
Each story comes with a PDF teachers guide.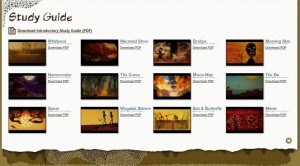 Each story can be used as you would use a traditional story. For example, you could discuss the 'main idea', sequencing, character analysis, inferring etc.
Book responses could consist of visual or written.
This is a great site and I would highly recommend you having a look.