In the 21st century, it is vital that students learn to be innovative, develop logical reasoning and develop resilience and persistence to solve problems. Problem-solving is not new, and can be traced back to early human history, it is through trial and error that we learn and move forward. I was a child of the 80's and fondly remember how frustrating the rubrics cube could be.
Today's post is all about  game based apps, which can scaffold the development of problem-solving skills. If you were going to use these apps in the classroom, I would recommend that the games are played in pairs. By playing in pairs, the students have an opportunity to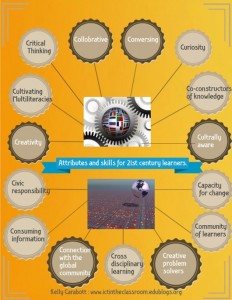 develop more skills, than if they were working individually.
For example as a pair they develop, communication skills; negotiation, compromising, listening to others ideas and building on other people's ideas. In reference to one of my earlier posts on 21st century skills you can see that this type of activity could potentially create collaboration, conversing, curiosity, co-construction of knowledge, capacity for change, community of learners, cross-disciplinary learning, creativity, critical thinking and creative problem solvers.
It is vital that some form of scaffolding and discussion guides this process, rather than just giving students the apps and telling them to play. Discussions surrounding different problem-solving strategies, what to do when you get stuck? How does it feel when you get frustrated? How does it feel when you have the ah-ha moment? Why is it important to think and then do?
Tic Tac Toe, (free) the traditional version of problem-solving and playing for strategy.

Scribblenaughts Remix is $1.29. This is a platform game where you have to complete levels to upgrade to the next level. To get through each level you need to solve ways of helping Maxwell get to the end of a level. To do this you have to think of what could object could help Maxwell, you then type this item into the notepad to see if can help.
What a great way to encourage correct spelling and the use of dictionaries. This game operates from the problem-solving strategy of trial and error.
Where's my water has both a FREE lite version and also a paid version ($2.49).  The aim of the game is to fix Swamp's shower and guide the water. This can be quite challenging. Imagine the AH-HA moments though after you have been trying and finally get the answer.
 Where's my Mickey? There is a free version (contains pop up adds) and also paid ($2.49). This is targeted towards the younger years, also it can get quite tricky to solve some of the problems.

Another great app from Disney "Where's my Perry" which has both the free version and also paid ($2.49). This app has over 100 puzzles. 

Amazing Alex: This app has been developed by the creators of Angry Birds, and contains over 100 levels of physics based puzzles.

Trainyard  costs $1.29. It is an app where you need to connect the coloured trains to their stations without crossing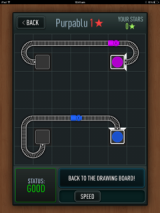 over the other train lines. This is one that starts off easy but continues to grow in complexity.
Fling Ball – You have to fling the balls at each other to clear them off the board, slightly addictive ($1.29).

World of Goo: An interactive physics based game ( $3.79). See the trailer below
Paddocks (Free) The classic game also known as boxes and lines. This is a great strategy and problem-solving game. I like this version as each square has a cow or sheep.
TinkerBox (free): a fun physics game. This game allows you to solve existing puzzles or create your own invention.

CargoBot (free) a great game which encourages problem-solving and also aspects of programming.

Rush Hour: the classic board game is also available as an app. This app is free and contains different levels and complexity of puzzles so it is perfect for all age groups.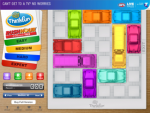 Monster Physics ($2.49). A relatively new app where you have to build your invention and complete challenges with it.

 Cat Physics ($2.49). 160 levels, where you need to pass the ball from one cat to another. Sounds easy ???? Hmnnnn maybe not 🙂

Pettson's Invention ( $3.49) and Pettson's inventions 2 ($3.49) 
   are aimed at 6-8-year-olds.
Crazy Machines Golden Gears Lite (Free). "In this "Rube Goldberg" style puzzle game, experiment and build your wacky contraptions with physics action like never before on the mobile platform! Dazzling visuals of explosives, fire, and true to life physics behavior when you put the experiment into motion!" (itunes)
Rube Works: The Official Rube Goldberg Invention Game ( $ 3.79 ) "The first and only official Rube Goldberg puzzle game. Solve everyday problems in Rube's trademark elaborate whimsical style by creating hilarious machines. Is pouring a glass of juice just too straightforward and boring? Try using a jack-in-the-box, magnifying glass, string and a cymbal-wielding friend to achieve your goal. The more creative your solution the better!" (itunes).
To finish this list, we can not forget to mention the app that started it all Angry Birds. This has evolved into other versions such as Angry Birds Space (free) , Angry Birds Transformers (free), Angry Birds Star Wars (free), Angry Birds Epic (free), Angry Birds Rio (free), Angry Birds Go (free) and Angry Birds Seasons (free).
Don't forget you can also turn these games into real life version. Take a look (ignore the jokes at the start 🙂 )
Happy Problem Solving