I have previously written about the online version of sploder which allows you to create different games. This site is supported by an online community and the ability to test your games and get feedback from players around the world. It is free to join up. The online version allows you to create 4 different types of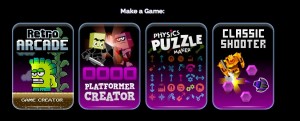 games. Which do require a some practice to master.
Sploder, at the end of 2104, released an iPad app tilted Sploder Arcade Creator which allows some of the functionality of the website, but in a mobile version. The app is priced at $2.49. When you open the app you are given the option of playing a created game or creating your own. The creation tool guides you through how to create each level. It can be a little confusing at the start so I would recommend that you and your students watch a few online tutorials to help you out.  Whilst the website offers four different types of game creation the app only allows you to create the arcade games.
The arcade games are the same as the website version on any online tutorial will help. Splodercast have a range of you tube videos which will guide you through the basics.
There has been a lot written about the benefits of gaming in education. The creation of games allows for students to develop many critical and problem solving skills. For example if we look to the Australian Curriculum (this would have similar aspects to other curriculum's), we can see where some of the links come in. I have chosen grade 5 as an example and you can see how the creation of games especially if done collaboratively (pairs) can link into curriculum.
Grade 5: General Capabilities: Critical and Creative Thinking
identify and clarify relevant information and prioritise ideas
combine ideas in a variety of ways and from a range of sources to create new possibilities
identify situations where current approaches do not work, challenge existing ideas and generate alternative solutions
assess and test options to identify the most effective solution and to put ideas into action
Grade 5: General Capabilities: ICT Capability
identify the risks to identity, privacy and emotional safety for themselves when using ICT and apply generally accepted social protocols when sharing information in online environments, taking into account different social and cultural contexts
independently or collaboratively create and modify digital solutions, creative outputs or data representation/transformation for particular audiences and purposes
select and use appropriate ICT tools safely to share and exchange information and to safely collaborate with others.
Grade 5: Mathematics
List outcomes of chance experiments involving equally likely outcomes and represent probabilities of those outcomes using fractions (ACMSP116)
Use a grid reference system to describe locations. Describe routes using landmarks and directional language (ACMMG113)
Grade 5: English
Understand how to move beyond making bare assertions and take account of differing perspectives and points of (ACELA1502)
Use a range of software including word processing programs with fluency to construct, edit and publish written text, and select, edit and place visual, print and audio elements (ACELY1707).
Try this in your class today 🙂