In Australia the students will be returning to school and it is always hot, hot, hot. The world health organistaion has recommended that sun safety becomes a priority around the world. Education is a important fcator in growing an awareness of sun safety issues. Today's post lists resources and ideas for primary and secondary schools. Whilst you are reading this post listen to some music below 🙂

Primary School Resources
Sun smart which has a wealth of resources including games, animations and songs has developed a range of smart board interactive lessons (if you don't have a smart board you can access the games online).
Smart Schools, a NZ website has a range of resources which are free to download
The Council Council Australia, offers free resources for your classroom.
Sun Days Fun Days is a video created for by the Cancer Council Western Australia for early primary students.

For upper Primary ACC Behind the news has an excellent segment on sun safety. It talks about the different types of UV rays and how sunscreen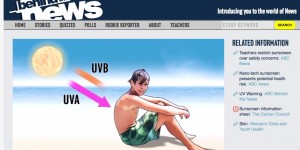 works. The site also contains free teacher resources for that episode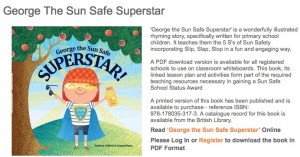 Sun Safe Schools (UK) has a picture story book you can read on the whiteboard, and a series of teacher resources and ideas. You need to register to access the downloadable ideas.
Secondary School Resources
Sun smart has a list of PDF activities and resources specifically designed for secondary schools. There are a number of activities and also case studies to examine.
The Cancer council Australia also has a list of real life cases, which feature videos and a recommendation for year levels.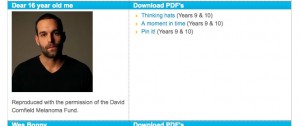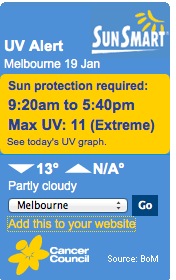 General Resources and Ideas
Add a UV level widget to the school/ class blog – results could be recorded over a few weeks and this information could then be used as a graphing activity for Maths. You could even use the online graph creator. Countries around the globe have their own widgets (google: UV widget and your country).
Brainstorm a list of sun safety vocabulary and get the students to create their own word finds  or create a crossword with clues using puzzle maker.
Uisng imovie the students could plan and then record a commercial for sun safety which could be added onto the class blog, televised on the schools tv, played for other grades.
Create an infographic on sun safety facts. Look at my list online tools and apps for infographics. My favourite at the moment would have to be Canva 🙂
Watch the minions talk about sun safety created by Universal Pictures Australia:
Tweet a fact a day (don't have a twitter account, then create a paper tweet or print a template from online ).
Create a Collage using Pic Collage
Use Screen Chomp and explain how sunscreen works, how to be sunsmart etc.
Write and then record a new song/jingle for Sunsafety. Use Garage Band  to create the backup music.
The ideas are endless 🙂 🙂