Hi everyone,
Last week I featured some of the tools which classrooms can use to connect to the global community. This connection enables students to develop civics and global citizenship, focus on cultural and linguistic diversity, and learn about the world we live in.
This week I wanted to focus on some of the resources available for looking at human rights and more specifically the rights of the child. This is a topic which can be focused on from Foundation – Year 12, what will differ is the detail and the complexity of the discussion.
The rights of the child created in 1924 by the united nations outlines 42 articles related to international rights for all children. This document which is suitable for middle and secondary education can be accessed here.  A more simplified and child friendly version which could be used in the lower years can be accessed here.

Another version can be accessed by PDF here
These could be printed of and children can engage in a discussion about their thoughts surrounding these, you could collect their collaborative response using Socrative or Padlet (which you can save and then display again at the end of the topic to see if the responses have changed). What are the big issues? Are there any of the children's rights which surprise you? Do all children have these rights?? What rights can I see that I have every day?  I wonder…….. These would provide a good introduction to an inquiry into this.
Books about Children's Rights:
There are also some excellent books which discuss children's rights.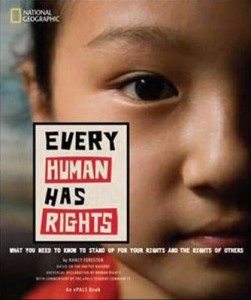 Every Human has Rights (2009) is written by The Elders and published by the National Geographic Society. The description of the book states "Every Human Has Rights" offers kids an accessibly written list of these rights, commentary – much of it deeply emotional – by other kids, and richly evocative photography illustrating each right. At the end of this deceptively simple book, kids will know – and feel – that regardless of individual differences and circumstances, each person is valuable and worthy of respect" (The Book Depository).
We are all Born Free (2008)is written by Amnesty International. This book "celebrates each declaration with an illustration by an internationally-renowned artist or illustrator: (The book Depositary).
I have the right to be a child (2012) written by Alain Serres.  This is an illustrated book which discusses children's rights.
Free Online PDF's
The Australian Human Rights Commission has excellent free PDF resources for all year levels. These are great resources.
Oxfam Education has a series of lesson plans and resources for children aged 8-10. This unit focuses on needs and wants.
Unicef Canada also has a PDF  (teaching children's rights) with teaching activities to teach about needs and wants.
Unicef has a PDF on Teaching human rights through the arts (2007).
Unicef has a PDF on Stand up for children's rights aimed at 11-16 year olds
The National Council on Human Rights Education has a PDF titled Citizens of Humanity and is a unit of work aimed at the middle years of school.
Websites, Resources and Lessons on Children's Rights:

Global Education has a series of lessons on human rights for P-2.
UNICEF has a website which has lesson plans for children's rights (P-2), (6-8), this site also contains resources (videos, timelines, case studies,pod-casts). This is quite a comprehensive websites for teachers.
Education Services Australia has a civics and citizenship module which explores Children's' right (more suitable for secondary).
The United Nations Cyber School Bus has a module on Human Rights this contains
resources and ideas for all year levels.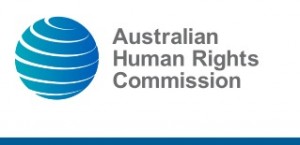 ABC splash has a statistics game which included infographics and interactive information and included topics which could be used for human rights (refugees, homelessness etc).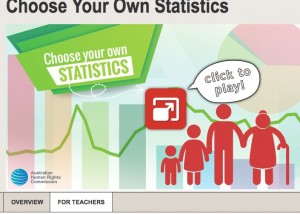 This site also has an amazing digbook aimed at secondary school which contains videos on the history of children's rights.
 Children's Rights a teachers Guide (2006) is a FREE PDF which has been created by Save the Children.
Apps on Children's Rights

Youth for Human Rights Education is a FREE app aimed more at secondary students. "The Youth for Human Rights Online Education iPad application is designed for elementary, middle and high school students. It may be used as a full course or as a supplemental resource within another curriculum. The aim is to engage students in human rights topics and provide opportunities to put human rights principles into action and use" (itunes)
United for Human Rights Online Education is a FREE app which contains videos and definitions about human rights. This would be more suited to Secondary Schools (ensure that you thoroughly look at the app before giving to the students). "Education is the foundation and catalyst for changing the state of human rights in the world, but educators need effective materials and tools they can use to easily incorporate human rights in their curriculum. To fulfill this need, we have now transformed the United for Human Rights curriculum into an entirely virtual online education" (itunes).
Videos about children's rights
What are child's right by Unicef Australia. A overview of children's rights.
The United Nations Rights of the Child by the Children's Alliance
The UNICEF Teach video below  gives a good overview suitable of middle to upper secondary ( I would watch this first to decide if it is appropriate, it contains some controversial topics and images).
http://www.teachertube.com/video/overview-convention-on-the-rights-of-the-chi-155024
Behind the NEWS ABC which is aimed at schools, has a great video and resources on children;s rights.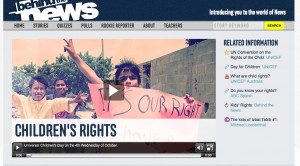 Another fantastic behind the news video can be accessed here
OR better yet. Learn about the human rights and then get your class to create a animated video, iBook, digital poster.