Our world is changing, it is becoming flatter and appears to be metaphorically shrinking. Technology has allowed us to communicate across borders and countries with relative ease (telephone, Skype, email, social media ). The classroom walls are becoming transparent as classrooms connect to the global community. This connection can be through consumption of global media and expertise, and  through the creation of content to draw global attention to issues. As always I believe that we have to create a balance between this consumption and creation; we receive and provide information, ideas and inspiration.
How do we define global education? The Australian Curriculum Corporation define it as, "Global education complements and extends students' existing understandings of their local and national communities by placing these in the wider context of global society" (Curriculum Corporation 2002, p.4).
Our students are growing up in a world where cultural and linguistic diversity is great. As today's' students enter the workforce they may be required to communicate across multiple contexts. As a world society we have multiple issues which are going to require a collaborated, and coordinated approach. Issues such as human rights, social justice and sustainability can be identified as world wide considerations. Why not start thinking about this now in our schools, and engage our students in real life authentic issues and contexts?
This post of the first of a  three posts series  which will focus on the way that globalization is affecting our schools, classrooms and students. This post will concern some of the tools, technologies and websites which allow for increased communication across geographic, cultural and diverse contexts.

ePals is a great website which puts you in touch with classrooms around the world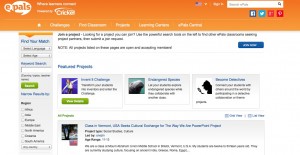 . Your class can communicate with another classrooms, or you can join one of the project groups and join in a global community. Topics such as celebrations around the world, water, global warming, digital storytelling maps etc….

Skype education: Open your classroom to other classrooms, to other professionals, to other mentors. Skype education of full of stories of skype calls to politicians as part of civics and citizenship; calls to local environmental experts as part of sustainability; calls to museums to get an expert view on paleontology as a study of the dinosaurs.
Blogging: There are a plethora of blogging sites for education. My favorite of course is Edublogs. Blogging, apart from the myriad of skills it develops (literacy, interpersonal, personal, civics and citzenship etc) also allows students to communicate with the global society. One example of this is a teddy exchange which I was part of a few years ago. The premise for this exchange was to allow our classrooms and school communities to develop an awareness of other cultures. We had 5 schools involved from various countries around the world, the UK, the USA, Australia, Sweden etc. Each class had their own bear which was sent to another of the schools where it spent 2-3 weeks. Each bear came with various items such as songs, money, information about the country. Each class then blogged about what the teddy was doing at their school. So my Australian kids were writing about what the Swedish bear was doing, the UK school was writing about what the Australian bear was doing etc. After the three weeks the bear was sent to the next school.


Twitter – Twitter and its 140 characters can be used to create content for the global community. As a teacher it also offers a platform to talk to students about online safety, digital footprints, ethical behavior online and digital citizenship. One of the main advantages though is that twitter provides your class with an authentic audience. I was in a grade 3/4 class a few weeks ago and with their teacher they were tweeting what they were learning that day. Parents could then look at these tweets. Students could also tweet about their homework, their thought son a topic, use a poll etc etc. There are many different ways it could be used (but that will be in another post 🙂 )
References:
Global Perspectives: A Statement on Global Education for Australian schools. Curriculum Corporation, 2002,