So we all know Socrative, which is an excellent tool for the classroom. For those of you who have not seen the new quiz tool Kahoot. I suggest that you have a look. This is a tool which could be used from P-12 and even at a tertiary level.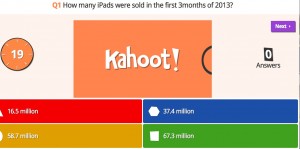 Kahootz allows you to create a quiz which is timed and has a easy to use interface. It is very easy to create your own quiz and it is FREE. There is also a database of Kahoot's which have been created on a variety of topics and method areas.  Kahoot can be used across platforms and it only needs a internet connection.
There are several ways that this tool could be used in the classroom
1. As a formative assessment tool to check understanding of what has been learnt.
2. As a diagnostic assessment tool to check for concept knowledge or misconceptions about concepts before the learning has occurred.
3. As a tool to poll the class, these results could then be graphed.
4. Get the students to create their own quiz based on the topic, concept, book etc. This would give you a very good understanding of student understanding and also allows for higher levels of thinking.