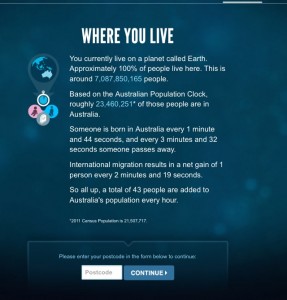 The Australian Bureau of statistics has created this virtual resource on Australia using the data gained from the census.
This tool personalises the Australian population to yourself. e.g./ you enter your age and it tells you how many other people in Australia are the same age as you, if you enter your postcode it will tell you how many people live in your area.
It is very engaging and interesting.
It would be good to use for civics and citizenship, geography, history etc.
This tool would also be good for maths, and authentic statistics 🙂