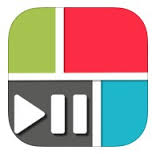 I love pic collage and hicollage well today PicPay Post app which if normally $1.99 is free. I think this app is great as it allows to to also embed video into your collage. It reminds me a little (although not as many features) of the fabulous resource Glogter which created multimedia posters. The app allows you to add photos, video and even music to your collage.
It allows you to save to your camera roll. The only negative I can see is that you can't add text. Although they may add this feature later on.
https://itunes.apple.com/au/app/picplaypost/id498127541?mt=8
A Quick Example is below
Ideas for Classroom:
1. Take Photos and video of a unit of work and students can create a reflection on what they have done.
2. Create book reviews, take some photos and record a video of an oral book review.
3. Create a visual procedural text.
4. Use an app like screen chomp or educreations to create a movie and embed that with pics into the collage.
5. Create a collage on a historical character.
6. Use as the VIP of the week, add photos of the child and video all the children saying why they think that child is a VIP. A nice visual way to create this which could be sent home as a movie.

7. Create a Christmas Collage of the with the students creating a movie with a video message for their parents and send it home on a disk.