Today's post is about art galleries. There is a plethora of virtual galleries with great collections of art you can access with your class.
Google has a virtual art project. http://www.google.com/culturalinstitute/project/art-project . The art project features numerous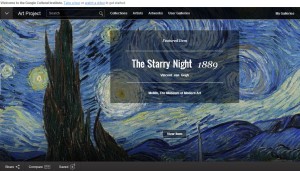 paintings from all over the world. When you click on a painting it comes up with details about the paintings and even movies. Art by Vincent van Gogh, James McNeill Whistler and Sandro Botticelli are among more than 1,000 works that have been photographed and "hung" in the virtual galleries. It contains art from numerous famous art galleries world wide ( The Acropolis Museum,The Metropolitan Museum of Art etc). This resource is FANTASTIC !
The Art Gallery of NSW Australia, has photos of their collections and audio podcasts you can listen too which talk about the art. There is even a section which is just for kids http://www.artgallery.nsw.gov.au/discover-art/take-a-tour/online-tours/kids-tour/ The podcasts
have been created and narrated by kids, but is very informative.
The National Gallery in London, have a virtual tour of 18 of their rooms. Imagine your class can wandering around an art gallery in London from your classroom. What an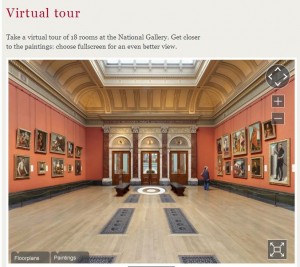 amazing opportunity. http://www.nationalgallery.org.uk/visiting/virtualtour/#/central-hall/
These sites could be used across curriculum areas. For Example:
Use the paintings to get the students to talk about how the art makes them feel (oral langauge)
Have a debate about the most popular piece of art and why (oral language).
Create a movie (documentary) on an art piece, talking about it's history (reading, writing, oral language, humanities etc)
Create a timeline of an artist (Maths, humanities).
Discuss, Write about what the students think the meaning of each piece is (visual literacy).
Create a story surrounding the artwork.
Really the possibility's are endless.