I have had a request from a wonderful friend who teaches numeracy to find and create some blog posts on resources to teach fractions. There are a number of different resources, my next few posts will be about websites, games and apps to help scaffold learning and teaching of fractions. I have tried to differentiate the posts into different fraction topics.
Today's post will deal with simple fractions.
Topmarks which is one of my favourite websites has a great resource for teachers. This resource has been designed for the teacher and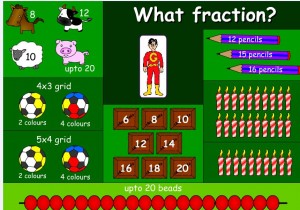 children to orally discuss what is happening. It gives you and the children an opportunity to discuss and identify  different fractions. It allows you to differentiate up to 20.
For example the picture on the left is out of 8 so the chn could work out the fraction of pigs 5/8 and horses 3/8, when you click on the picture the percentage changes.
http://www.topmarks.co.uk/Flash.aspx?f=WhatFractionv3
The BBC have a great interactive activity on identifying and creating basic fractions, it uses a combination of video and games, it could
get quite competitive as you try to beat the clock. The resource can be accessed here http://www.bbc.co.uk/bitesize/ks2/maths/number/fractions_basic/play/
Fraction Flags reinforces the concept of 1/2 and 1/4. The game asks the students to colour the flag. The game can be accessed here.
http://resources.oswego.org/games/fractionflags/fractionflags.html
Fractions Flags involving 1/3 can be accessed here. http://www.oswego.org/ocsd-web/games/fractionflags/ffthirds.html
This resource is quite good but gives a good visual of how a pizza be divided into fractions. This would be good as a whole class
resource on the whiteboard. http://www.bgfl.org/bgfl/custom/resources_ftp/client_ftp/ks2/maths/fractions/index.htm
I have blogged about fruit shoot in the past, it has lots of interactive games, this game is a matching game, there are lots of other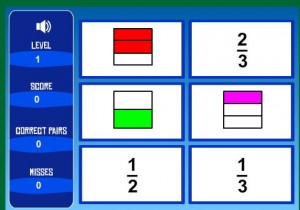 fraction games so the site, so it's well worth a look to reinforce the children's concepts about fractions http://www.sheppardsoftware.com/mathgames/fractions/memory_fractions1.htm–
I have also blogged about study ladder in past, study ladder is a free Australian website where teachers and students can work through maths and literacy activities, the activities are differentiated on different levels and these levels can be assigned to different levels. Te read more about study ladder you can read the post here
I have also blogged about the national library of virtual manipulatives which has lots of great manipulatives you can use on the interactive whiteboard. There are quite a lot of fraction manipulatives on the site which ca be accessed here http://nlvm.usu.edu/en/nav/topic_t_1.html