https://itunes.apple.com/au/app/penultimate/id354098826?mt=8
Penultimate is a FREE app which you use in conjunction with Evernote, ibooks or dropbox.
The app allows you to hand write (using a stylus), draw pictures and add photos. The pages can then be sent to a evernote account if you have one. The app even has a search feature for your notes, it will recognise your handwriting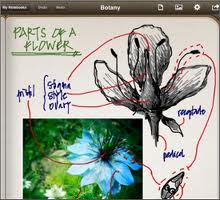 and search for any relevant terms. It has different paper styles, including, lined, plain and graph. The paper store in the app also allows you to download a variety of other paper types free or for a small cost.
You can access the official website here, it contains tips and tricks
I have included a quick demonstration of the app below.