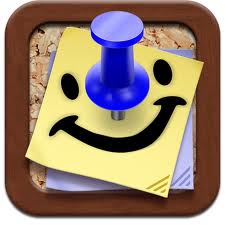 https://itunes.apple.com/au/app/corkulous/id499778467?mt=8.
Corkuolous is a FREE online pin board. It is very easy to use. There is a Pro version for ($5.49).
The FREE version allows you to only have one board at a time and the board is saved to that iPad. The app allows to to email the complted board, print or save it to the camera role. The pro version allows you to have multiple boards which can be saved to dropbox
Ideas for the Classroom
This app could be used as a mind mapping tool to save ideas and thoughts
You can use this app to provide a point for collaboration. (chn could all post their learning for the day, they could add there wonders and questions about a topic).
Students could use the board to create their project on a topic.
Students could make a board at the start of the year all about them.
Students could make a board to show their favourite Christmas traditions
Students could use it to record their reading connections, inferences etc
I have provided a quick overview of the app below.