Yesterday I  attended and presented at a very interesting discussion surrounding innovations in teaching and learning in higher education. It was a great day with lots of sharing of ideas.
One of the discussions surrounded the use of the flipped classroom and readings. As part of this discussion in light of an ICT view, we discussed the use of online newspapers to generate content, ideas etc. I have posted before about another tool for creating online newspapers, But I also did a bit more searching today and have found some other BRILLIANT tools. These tools could be used from prep – Uni, it just depends on the focus, the content and the amount of scaffolding required.
So here are a few: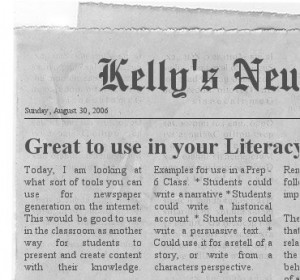 http://www.fodey.com/generators/newspaper/snippet.asp – This is very simple to use and could be used across grade levels. I have added an example which I created. The article has ideas on how you could use this tool in your teaching and learning.
http://www.readwritethink.org/files/resources/interactives/Printing_Press/ Read Write think also has an interactive newspaper, brochure and flyer creator. It is very easy to use and the students can save, email or print their work.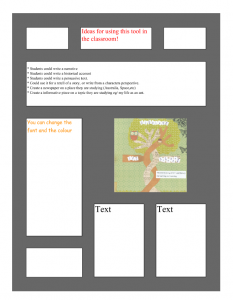 http://www.presentationmagazine.com/editable-powerpoint-newspapers-407.htm – I love these !!!!!! They are free power point templates based on newspapers. Children can just navigate their way around the template and it is very simple and effective. Would Highly recommend these.
http://www.newspaperclub.com/how-it-works/make-a-newspaper-online – This makes a more complex longer newspaper, it gives you the option to send it off and get it printed, but you can download the pdf and use it that way. This would definitely be for the upper grades. It's not fabulous, a little bit to text heavy but still good.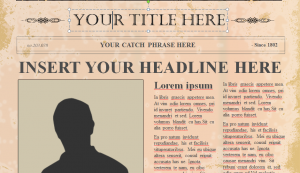 http://yourgoodnews.co.uk/ – This is a site which allows you to create a short newspaper. (there is no save button and once the students hit submit they can't modify their text. You would need to take a screen shot to save your work or it does allow you to print. ). This might work well if you wanted to create a catch headline.
Enjoy !!!! Kelly