A friend of mine recently told me about this site, which is chock full of interactive maths games. The games are in a shoot them arcade style. The games are simple and easy to play.
The things I like about this site are you are able to choose the level for your class.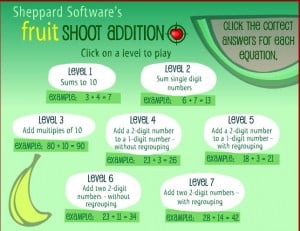 It has games for place value, basic maths concepts, all operations, mixed operations, fractions, decimals, geometry, measuring and time.
It can be used as a whole class introduction, or quick game,individual computers or even suggested as a website children can get on at home. It could compliment a program like studyladder.
http://www.sheppardsoftware.com/math.htm
These are what we call drill and practice games which are great for reinforcing and consolidating the children's skills. As with any of these they do not replace hands on concrete experiences 🙂
Enjoy, the kids will love these games. The monkey drive game is lots of fun