Fractured fairy tales allow the children to read and create a parody of traditional fairy tales. These fractured versions allow for the use of humour and certainly encourages a creative writing style. A fractured fairy tales has changes in the setting, characters, events etc.
I used to love reading these to the children in my class it was a great opportunity to also make text to text connections to scaffold comprehension  I would start by reading the traditional version and then we would read all the other versions that I could get my hands on. My class's favourite was definitely "The three little wolves and the big bad pig." If we extend our thinking to different types of texts you create a fractures fairy tale on Shrek. 'Hoodwinked' the movie is an example of a fractured fairy tale based on the story red riding hood
Read Write Think has a student interactive which allows the class to plan an outline of their fractures fairy tale. I have included some screen shots below. http://www.readwritethink.org/classroom-resources/student-interactives/fractured-fairy-tales-30062.html
The class could write and produce a fractured fairy tale to share with the other grades, create a script and then video the play etc. By creating and reading fractured fairy tales it can also teach different perspectives (there are always two sides of the story).
Some of my favourite fractured fairy tales

The true story of the three little pigs by Jon Scieszka

The Three Wolves and the Big Bad Pig by Eugene Trivza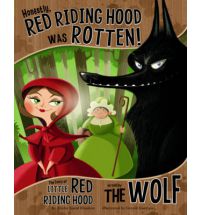 Honestly Red Riding Hood was Rotten by Trisha Shaskan