Into the book: http://reading.ecb.org/index.html \ was developed by the Wisconsin Educational Communications Board with the Wisconsin Department of Public Instruction.
We all know how important it is to ensure that children are able to not only decode when they read but understand what they read  Comprehension has different thinking levels and this website makes each of these strategies explicit.  The into the book website features 2 sections a student interactive section and a teacher section. The student section could supplement the children's learning into the various comprehension areas, making connections, visualising, inferring, summarising, synthesising, questioning, prior knowledge and evaluating. Each of these strategies is defined for the children and then they can complete an interactive activity which is linked to each strategy. I think it is more suitable for 3-6. It has audio as well as text.
The teacher section contains videos on what each of the comprehension strategies looks like. My favourite section is the download section which contains lots of resources, my favourites are the posters and the bookmarks. I used to send the bookmarks home with the children's readers as prompts for their thinking after they had finished reading. I would teach each strategy explicitly with the children through modelled and shared reading.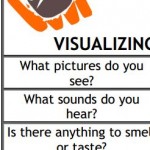 Example of the bookmarks.
Has anyone used this website ????
Kelly