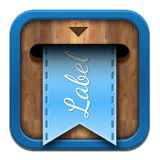 Label box is a FREE app which allows you to take a photo and then label it or use a existing photo. There are a variety of labels which can be used. You can take a screen shot of the finished product and then print out the picture.
Classroom Ideas –
1. Use a characters picture form a book and describe them using the labels.
2. Use a picture of a setting (forest, castle etc) and use words to describe the setting which can then be used in
narratives.
3. Use a picture of a number and type as many things as you now about that number eg
4. Use a picture of something you are studying ad then label it (eg if you are looking at bugs, label a bug)
5. Use a picture of themselves and label things they like/don't like
6. You could use the app for spelling and the children could label their spelling words.
There are just so many ideas !!!!  I have included some screenshots below.