Sparklebox is a treasure trove of posters which are free to download, print and then laminate. The resources cover all curriculum areas. They are great to display around the room with the anchor charts that the children have created themselves. It is  important that you and the children create your own charts as the children have ownership of the charts and are more likely to use the for reference. Today I have only included the link to the place value resources as a follow on from the place value posts this week.
http://www.sparklebox.co.uk/maths/numbers/place-value.html#.UTHe5jDDCSo – this link contains all of sparklebox's place value resources. The majority of these resource are free and it is quite easy to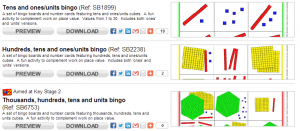 download, print and then laminate them.