Last week I blogged about a series of tools which could be used for character analysis and reading comprehension (My examples were based on the big bad wolf). Today's post is a follow on form this. I have included links to websites and apps where your class could create postcards. The big bad wolf is a feature of today's examples. ( All postcards where created by my 12 year old who thought it was soooo much fun)
http://www.readwritethink.org/files/resources/interactives/postcard/ – Another great resource from read/write/ think. This is  web based site. The postcard creator is very easy to use.
https://itunes.apple.com/us/app/sodasnap-postcards/id283293646?mt=8&ign-mpt=uo%3D4 – Soda Snap is a FREE app which allows you to create postcards. It is fairly basic but is easy to use.

https://itunes.apple.com/gb/app/postcards!/id456615935?mt=8 – This is a FREE app. You can email the postcards for free, or just take a screen shot and save it to my photos where it can be printed. 
 Microsoft Publisher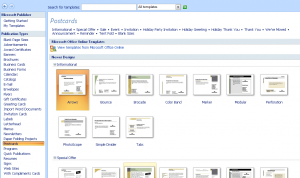 Publisher also has postcard templates. These are very easy to use and the children can customise them. When you create a new publisher document you click on the postcard template and then create a postcard.