Creating a comic is a great engaging learning activity. It can be used in all subject areas from P-12.
Reading ( retell, make a new ending, create the setting, problem, resolution, describe a character, sequence a story)
Writing ( Chn can turn their stories into comics, use the comic as a visual story planner, use it to create different text types, how to make a cake, a persuasive text on why forests are important)
Humanities and science (illustrate a concept etc)
History ( retell a historical event, interview a historical character, a day in the life on ancient Egypt etc)
In the past it would take the children time to draw and label their own comics. However there is an alternative with both web sites and apps which allow for very simple cartoon and comic creation.
As with any new project, you need to ensure that you have given the students access to various comics, so students are able to learn the key features of the genre. I have added a few online sites below where you can access free online comics.
 Apps
https://itunes.apple.com/gb/app/strip-designer/id314780738?mt=8  Strip designer is an app which allows you to use your own photos and turn them into a comic

strip. Unfortunately it is not free it costs $1.99, but it is lots of fun and a great app for the classroom. The children could create their own stories, take photos to illustrate their stories and then add the dialogue. It could be used for retells etc.
Make belief comic creator is a FREE app which allows you to create comics on the iPad
Comic life is $6.49, and is the bees knees of comic creators.
Comic Heads is $4.99 and comes with a wide variety of templates and characters.
Websites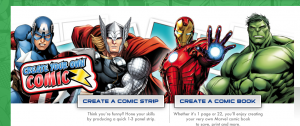 http://marvelkids.marvel.com/games/play/75/create_your_own_comic – make your own marvel comic.This site allows you to create a quick 3 slide comic or a comic book up to 22 pages.
http://pbskids.org/arthur/games/comiccreator/ – This site allows you to create Arthur comics.
http://www.readwritethink.org/files/resources/interactives/comic/
 – Read Write think has an online comic creator which is quite easy to use
http://www.makebeliefscomix.com/
 – Make Believe comicsAnd off course there is ToonDoo which I have blogged about before (
http://ictintheclassroom.edublogs.org/2012/12/10/toondoo-create-online-comics-and-books/
)

Online Comics
Spend some tile looking at the main features of comics. How are the pictures positioned? how detailed is each of the panes? What type of language is used? How does the writer create humor? create drama? etc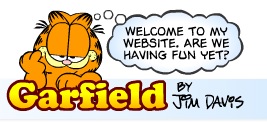 The
Garfield website
has several few comics that the students can read, or you can read to the students.
kidswb
has a super hero comics which are free to read.