This post is all about spelling. I have posted about sites you can use in education such as word clouds           ( http://ictintheclassroom.edublogs.org/?s=word+clouds) and puzzlemaker ( http://ictintheclassroom.edublogs.org/?s=puzzle). There are so many other sites and apps, that I have added more in this post.
I used to love my spelling rotations when I was teaching. Every week the children would rotate through an activity which was focused around their spelling words.
Activities such as paint the word, stamp the word, use stickers to make the word, turn the word into other words by changing endings (jump, jumped, jumper, jumps etc), battleship, break the code, how much is your word worth etc. I used lots of websites for individual and small group work.
I found these free printable PDF's through Google. You can print the cards and then laminate them.
http://www.busyteacherscafe.com/worksheets/SpellingCards72.pdf
http://www.sanjuan.edu/webpages/gguthrie/files/spellingtaskcardspdf.pdf
But onto Websites here are just a few: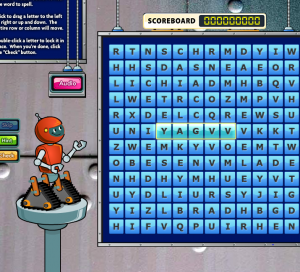 Alpha Bot asks the children to click on the word to hear the audio and then find the word in a word find. http://www.wordcentral.com/games/alph
Word Safari: My class loved this game. I used it on the interactive whiteboard as a small group activity or on the laptops. I like the fact that the children can enter their own spelling words in. http://www.netrover.com/~kingskid/Safari/safari.htm
PBS Kids: http://pbskids.org/games/spelling.html. This Site contains lots of spelling games for the children to use. 
Learning Games for Kids: This site also contains around 6 games the children can use to practice their spelling words.
http://www.learninggamesforkids.com/spelling_games.html
Apps Available.
I have just listed a few free ones for now.

Spelling City: The app is like the website I love it. https://itunes.apple.com/au/app/spellingcity/id538407602?mt=8

Spelling Magic.  https://itunes.apple.com/us/app/abc-spelling-magic-2-consonant/id438133737?mt=8
There are a variety of apps titled speeling Magic which you can use on Vowels, blends etc. The app says the word and then children use the letters to create the word.Each letter also says the sound it makes

Chicktionary:  https://itunes.apple.com/us/app/chicktionary-300/id377444457?mt=8
This app uses the eggs and the children see how many words they can make from the letters on the eggs.
I will add more in further posts
Kelly