https://itunes.apple.com/gb/app/pic-collage/id448639966?mt=8
Pic Collage is a FREE app and I must admit instead of cleaning my house this morning I have been playing with the app seeing just what I could use it for lol.
It is incredibly easy to use. It enables you to add your own photos or search the web and add photos from there. You are also able to add text and stickers to have a little fun.
So here was my first attempt using my photos and it took me about 4 minutes to create.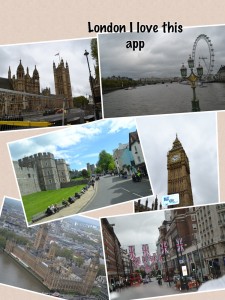 Possible ideas for using this in the classroom ?
1. This could be a start of the year activity the children could create a collage all about themselves and then present it to the class on the IWB.
2. Children could take photos of their school and create a collage about the things they love about their school
3. Could create a collage with text about a topic you were studying in class.
4, Use a pic in the middle and then write descriptive words around the picture (eg STORM, loud, lightening  dark, windy, hollowing). These collages could then be printed and used as anchor charts.
The collage to the left is one I created with could be part of a character study for a book. I have just used a few words as an example. The children could find or even draw a pic of their character and then use words to describe that character.
The Collage to the right (Venn Diagram) could be used as a compare and contrast activity for reading. To add text over the Venn Diagram I inserted a Venn from the Web and then used the
photo as the background, this is much easier as the text sometimes disappears behind the pic, if the pic is the background it doesn't do that.
Really the opportunities and ideas for this app are endless. I love apps like this as they are open ended and allow for a multitude of applications in the classroom.
Has anyone ever used this app in other ways? I would love to hear about how