http://www.tooter4kids.com/forms_of_poetry.htm
This site gives a description of each different poetry form and an example. It is very easy to use and would be suitable for children to read.
This site here always you to create your own poem using the templates provided.
http://ettcweb.lr.k12.nj.us/forms/newpoem.htm
A Cinquain I created.
Sunrise
Fresh and New
Red, Orange Glow
New Day, New Beginnings
Morning
The website, "Read, Write, Think" also has student interactives which allow the students to create several different styles of poems and the  print them or save them as a PDF. Many of these interactives explicitly guide students through the process. I have included links and pictures of some I created earlier.
http://www.readwritethink.org/classroom-resources/student-interactives/theme-poems-30044.html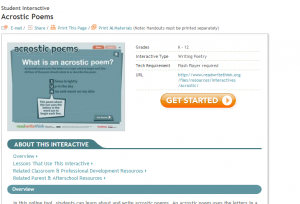 http://www.readwritethink.org/classroom-resources/student-interactives/acrostic-poems-30045.html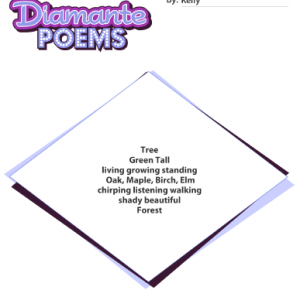 http://www.readwritethink.org/classroom-resources/student-interactives/diamante-poems-30053.html