http://www.gigglepoetry.com/poetryclass/poetryclass.html
Giggle poetry is a great site for interesting and funny poems to share with your class.
The poems have been put into categories (there are lots more this is just a small screen shot).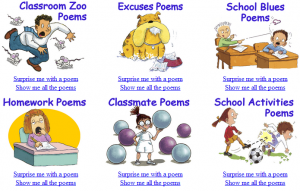 There are lots of sections with ideas and activities. I particularly like the readers theater section which contains poetry the children can perform.
There is a section which provides ideas for poetry writing, fill in the blanks and word games.
Classroom Ideas
1. Use the site as a teacher resource and read a poem with the children every day.
2. Children can access the website and choose their favourite poem which they can illustrate and read to the class.
3. Use the poems for visualisation. Read the poem to the class. Get the students to close their eyes and imagine they can see a picture of what the poem is about. Then get the students to draw a picture of what they  imagine when the poem is read.
4. Use the poems to help the children develop fluency and expression when they read.