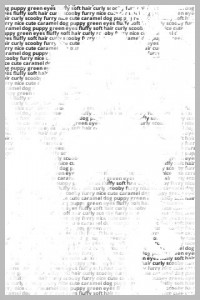 http://www.youareyourwords.com/
This site allows you to upload any picture, add text and voila out comes a picture with the text. The one drawback I found was the website was a little slow.
The one I have completed on the right is of my new puppy scooby
Classroom Ideas
1. I would use this to publish the children's work they can then download and print the picture.
2. Could be used at the start of the year. Children can upload a photo of themselves and then type in all the words that describe them. (When they run out of words they can just continue to copy and paste the same words)
3. Children can choose a picture that illustrates a book character and then type in all the words that describe the character. You could also do this for the setting etc.
4. Children write a summary of the story and then upload an image which represents the story.
5. Children write their own story and then type the story into the website.
6. Can use it to generate a list of topic words.
7. The children could use it to practice their spelling words.