National Geographic for Kids    http://kids.nationalgeographic.com/kids/
I have used the photfill in's with my class when we were discussing dialogue and speech bubbles, the children thought they were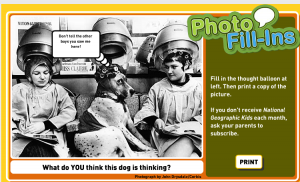 hilarious  After we had printed out the pictures the kids read each speech bubble using a voice they thought the animal had. We then used the animal and the speech bubble and wrote a story on what happened before and then after the event (This was of course modelled by myself first). This writing went on over a few days and the children thought the results were very funny. They were very engaged and got quite creative.
http://kids.nationalgeographic.com/kids/activities/photofillins/
National Geographic for kids also has lots of information on science and social science. For example the link below is for a movie about volcano's, there is also a quiz, photos and facts. There is a abundance of material which is easy to read.
You could use this information to introduce topics.
Plan comprehension activities using the text.
Watch the video and read about the topic and then video the children being news reporters and presenting the information.
http://video.nationalgeographic.com/video/kids/forces-of-nature-kids/volcanoes-101-kids/