Lego Junk Bot
http://thinking.goodgame.co.in/lego-junkbot-games.html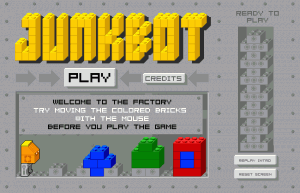 This is a great game to explore problem solving and the children love it.
It requires the children to add blocks in certain ways to empty the rubbish. When introducing this game I have always discussed what sort of things we need to do when we problem solve.
We need to think before we just jump in, sometimes we operate by trial and error and what do we do when it gets frustrating? The children have to write down how many moves it took them for each level, this stops them just racing ahead and encourages them to be strategic.
The children would constantly ask me to play this game and would try to beat their previous score.