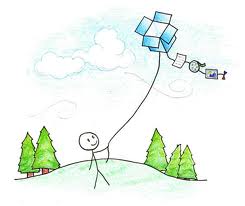 Have you ever got to school and thought "ohhh no the file I need is on my computer at home". Well with Drop Box all your problems are solved. Dropbox is an online storage facility. It stores all your files  in the cloud. What this means is that you can save your files into dropbox and then access them anywhere your laptop, ipad, smart phone etc. It also means that you have a backup of important files. I discovered drop box after I saved 4000 words i had written for my thesis and then when i got back onto the computer the whole lot was gone. Well after a dummy spit and some tears I investigated an online storage facility.
Drop Box is very easy to use you just need to sign up and download the app. It is free for up to 18gb of data.
Classroom Ideas:
1. Never leave your files at home or school again! You can access these anywhere!
2. The children in your class can store their work in dropbox and then you are able to access it from home to mark or comment.
3. The children could have their own account which they could access at home to finish work, show their parents what they are doing etc.
Below is a demo of drop box.
Have you used Drop Box ?