I love You Tube. Below are some videos I found that you could use in your classroom. I like the fact that you can read the lyrics as well, great reading activity.
http://www.youtube.com/watch?v=EEcZ3jQ-7uc
Magazine Christmas Tree
How to make a Christmas tree from a magazine, I made them one year with my class and they looked fantastic.I  have pasted below a tutorial I found on facebook. I didn't use the spray adhesive, my kids used PVA and pasted glitter, sequins etc on their trees.
 Paper Bag Reindeers
http://crafts.kaboose.com/paper-bag-reindeer.html 
PPST.Com have an array of free power point presentations. I have pasted the link for the Christmas section below it has power points on Christmas around the world, Santa etc.
http://holidays.pppst.com/christmas.html
Christmas Jokes
Lots of interactive jokes, the children could have fun sharing the jokes and then writing their own.
http://resources.woodlands-junior.kent.sch.uk/customs/xmas/santajokes.htm
Christmas Teaching Resources: Great Range of resources.
http://resources.woodlands-junior.kent.sch.uk/teacher/christmas.html
The online activity "Rudoph is missing" is fantastic. It is a great literacy resource.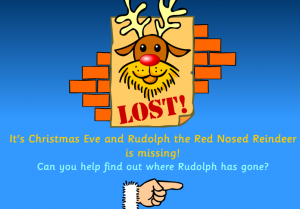 http://www.learn-ict.org.uk/resources/rudolph/rudolph.htm
Reindeer Orchestra.
This is a bit of fun and the children think it's hilarious. You click on the reindeer's noses to play the songs
http://dingo.care2.com/cards/new/0422/Do-a-rain-deer.swf