Ho Ho Ho, it's that time of year again so I thought I would focus this post on various Christmas websites I have used in the classroom.
I love Christmas, especially Christmas in the classroom. I love decorating the classroom with the kids, making Christmas decorations, singing as the children work to Christmas cd's and the Christmas party where we always got them a Christmas present. My fondest memory is of one of our boys crying (Grade 2) when he received a Geromine Stilton Book, he was so excited and could not believe it, 3 years later he still says to me do you remember the book you gave me!
I loved finding fun Christmas things on the internet and would use them in rotations and as a whole class focus via the interactive whiteboard. Of course I would save the links in my Diigo account so the following year i didn't have to hunt again.
North Pole.Com
This website is fantastic it is very interactive and allows the children to explore lots of areas relating to Santa's village each area contains an activity for the children. They can read stories, write to Santa, watch disco dancing Santa, read recipes, visit the mail room and even make their own personalised stories. I created one and have inserted an excerpt below. The story is titled elf for the day.
Excerpt from story:
Next, Bud took Kelly to the Mailroom, where Bif was surrounded by mailbags overflowing with letters.
"Hi, Kelly, Santa told me you might drop by. I sure could use some help sorting the letters that came today. It's getting close to Christmas Eve and we don't want anyone to be disappointed on Christmas morning!"
Soon Bud and Kelly were helping Bif open envelopes and sort the mail for Santa to read. Kelly looked for letters from Polly and Heather and other kids back in Victoria but there were just too many letters to read—and Kelly was only 21 (I wish) anyway!
Claus.Com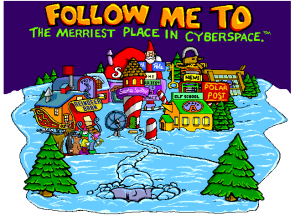 http://claus.com/index.php
This is also a interactive website with lots of places to visit. You can visit the reindoor barm and learn all abou the reindeers and 'supe up santas sleigh".  My Suped up sleigh is below (The children could write a story involving sant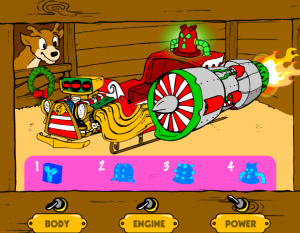 as new sleigh)
The children can listen to stories, check if they are naughty or nice etc.
Norad Tracks Santa
Kids would love this cool spy site which allows you to track Santa's progress, it contains Santa's village which has lots of fun games the children can play. Which is located under the activities countdown section. I like the light up the Christmas tree which could be used in maths as a problem solving activity.
Elf Yourself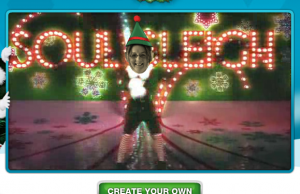 This is so much fun. (You would need to get parents permission if you would like to use children's photos)
This is one I have created of myself below, needless to say I had a great laugh!
Click on link below to watch elf yourself starring me lol
Other Ideas
1. Children could use prezi  http://prezi.com/ or power point to create their wish list for Christmas.
2. Children can use the internet to research different Christmas traditions around the world  You could use Mentor Mob (Which i have featured in previous posts and is very easy to use) to bookmark what pages you want the children to go to. (Saves all the I can't find the website)
3. You could use an interactive Venn Diagram  http://www.readwritethink.org/files/resources/interactives/venn/ to compare and contrast different Christmas Traditions, or what would be considered naughty and nice etc.
There is so many more I have ran out of time and have to prepare for my first Christmas dinner with friends otherwise we will have nothing to eat
If you have other ideas please post below