http://kids.mysterynet.com/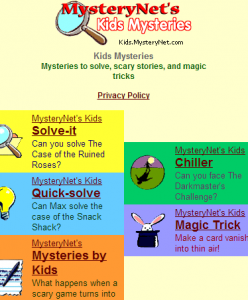 Kids mystery net is a website that has mystery stories the children can read and then try to solve. I have found that it is a useful tool to teach inferring as the children have to 'read between the lines" to pick up on the clues and ultimately solve the mystery. The stories can be displayed on the interactive whiteboard. You can model how to identify the  important aspects of the story, or get the children to identify them.
One of the best writing lessons I have had was using one of the magic tricks.
I gathered the children around the table and demonstrated  how magical I was by performing my magic trick (the look of their faces was brilliant). I then showed them how the trick was done. The children then all made the same magic trick and wrote a procedural text on how to make and then perform the trick. After the children had completed their procedural writing they practiced the trick and we digitally recorded them performing the trick and then explaining how it was done.  The kids where very excited to take their magic trick home and astound their family with their magical abilities.
The children could also use the stories as a springboard to write their own mysteries.