http://www.kerpoof.com/
Kerfoof is a fantastic website which is mostly free (you just need t0 sign up to save your work) and is operated by the Walt Disney company.
It allows you to create artwork, comics, cards  and my personal favourite the ability to create an animated movie. It allows to the children to publish their work in a different form that they could even add to a digital portfolio.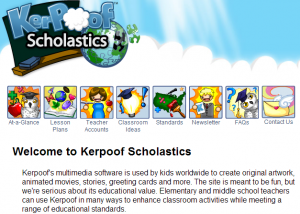 Kerpoof allows you to register your class where you can set up a class board and children can post on there. This feature also allows you to collaborative on the same project.
The following link is for the teachers guide PDF which guides you through the Kerpoof.
http://www.kerpoof.com/edu/Teacher_Guide.pdf
Classroom Ideas
1. The animated movie can be used to create stories, retell a story, portray a poem etc.
2. You could use the animated movie to re create a historical event or a current event.
3. Read a poem and the children can produce a picture of what they visualise.
5. There are so many ideas!!! Do you use Kerpoof?