Wacky Web Tales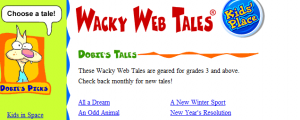 This site offers children the opportunity to develop rather humorous stories based on the data they input. They are required to add details relating to nouns, adjectives, verbs etc. The site has a help menu so children can find what a verb is, an adjective etc. The story is then generated.
http://www.eduplace.com/tales/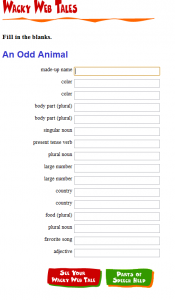 I created an example of a Wacky Web Tale story below.  The Bold words are the ones that I added before the story is generated (the picture to the right shows this screen).
An Odd Animal
The Carol is an animal that has red fur with green spots on its arms and shoulders. Its tail is shaped like a(n) cat which it uses to run cabbages. An adult Carol may weigh more than 8973 pounds and stand over 14593 feet high.
The Carol can be found only in Australia and Italy. Although its favorite food is pizzas, it also likes to eat chair. If you ever see a(n) Carol, be sure not to ever sing "Gangmang Style." That song makes it pretty. Instead, give it a few pizzas and be on your way.
Classroom Ideas
1. Wacky Web Tales contains many different writing genres, you can use this site to illustrate the features of the differnt genres. (Procedural, Narrative, Expository etc)
2. You could produce a story and then the children have to visualise what the story is about and draw an illustration. Visualisation is great for comprehension.
3. It allows children to create some complex texts they may not be able to produce themselves.
4. I have used this site to reinforce grammar concepts which we have covered.
Have you used this site? What are your thoughts??