Wacky headline Creator
http://www.brucevanpatter.com/headstarter.html
This site allows the children or yourself to create some really great headlines which the children can then write about.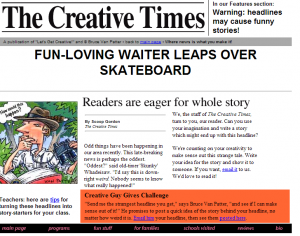 Think about the prior knowledge and skills the children will need to be able to produce this type of text.
You would need to model how to read and write newspaper stories. Look at what are the main features, what vocabulary is used etc. I would model how to write a story, and then conduct shared writing experience with the children. (Remember that it's important to read this genre and model and write yourself before you expect the children to attempt it, by doing this the children will experience more success).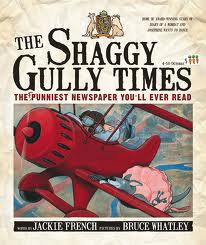 I love the book Shaggy Gully times By Jacquie French and Bruce Whatley (2009), Harper Collins Publishers Pty Ltd.
http://www.harpercollins.com.au/books/Shaggy-Gully-Times/?isbn=9780732284107
This book is actually a newspaper and is hilarious  it is great for teaching and highlighting the different structure required in newspaper writing.
 http://www.jackiefrench.com.au/books/ShaggyEventKit_Print.pdf
this PDF has been created by Jacquie French and contains some great ideas and activities.
Microsoft Publisher has several newspaper templates that are available to use. When you enter publisher and open a new document you can type newspaper in the search template section (near the top). This will display many different templates the children can choose from. (A Screen capture of this is below).
The children could write a class newspaper reporting on events. Your newsletter to the parents could be produced by the children and sent home. (How powerful, I am sure all parents would read your newsletter as the children have created it!).
Any other ideas?